An update was now long overdue. Let me start with this picture, taken by Kevin, who dropped me at Singapore's airport on August 5th.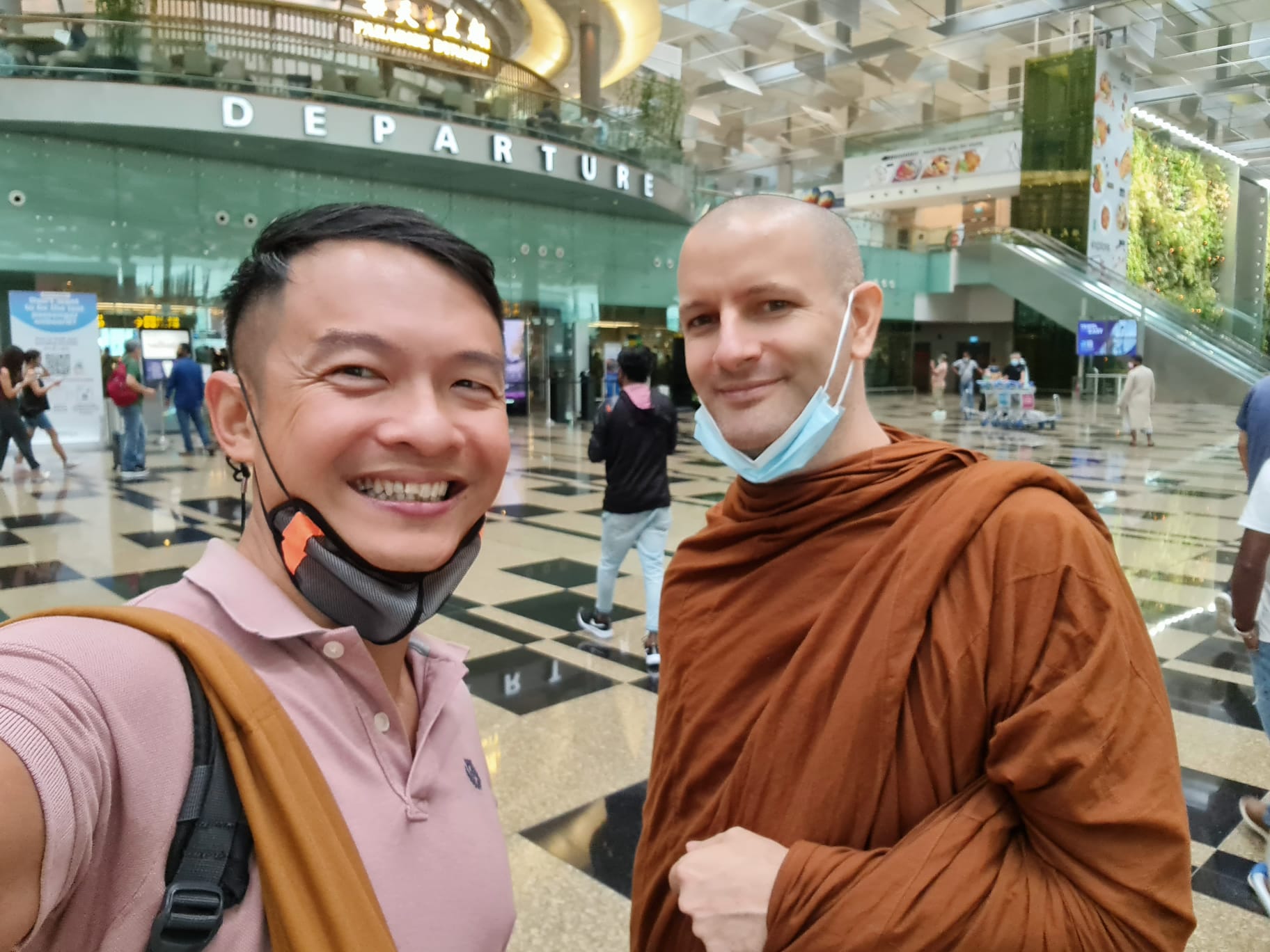 Then this one taken by Jimmy, whom I met while waiting for boarding.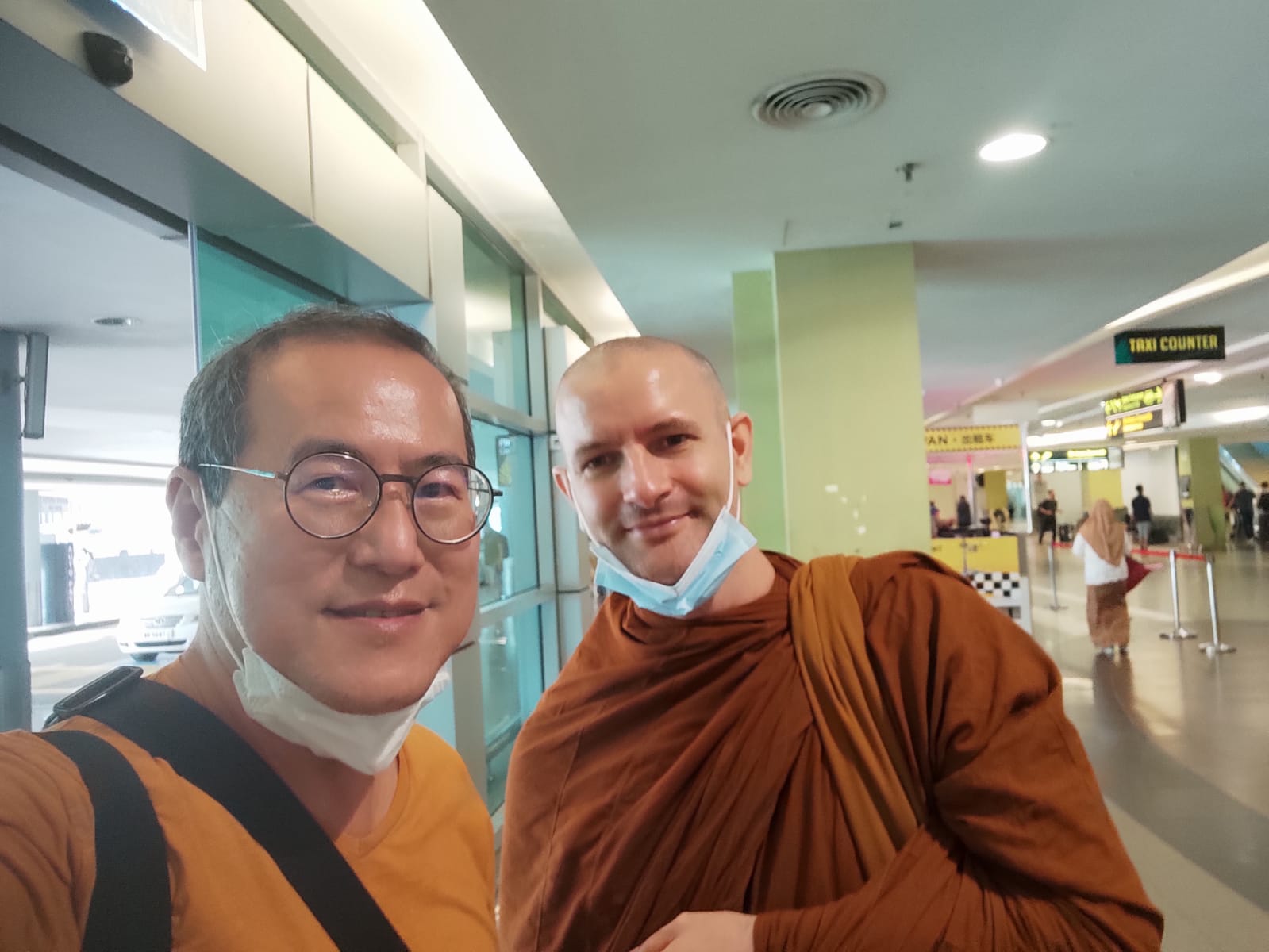 So upon arrival in Malaysia, I was allowed into the country, but since I was dressed as a monk, I was told that I was not a tourist and that therefore they would not grant me the customary 90 days (I checked, they had given it to me automatically 12 times since 2015, and a bunch more times on my previous passport). Since I was carrying a flight reservation for Sept 26th, they granted me stay until Sept 27th only (roughly 50 days instead of 90). This has caused a slight problem because I was supposed to finish the vassa, the rainy season 3-month retreat which ends on October 9th. I would be 2 weeks short.
So I came back to Nandaka and continued my stay. My friend living in Bangkok came back and brought a friend of his.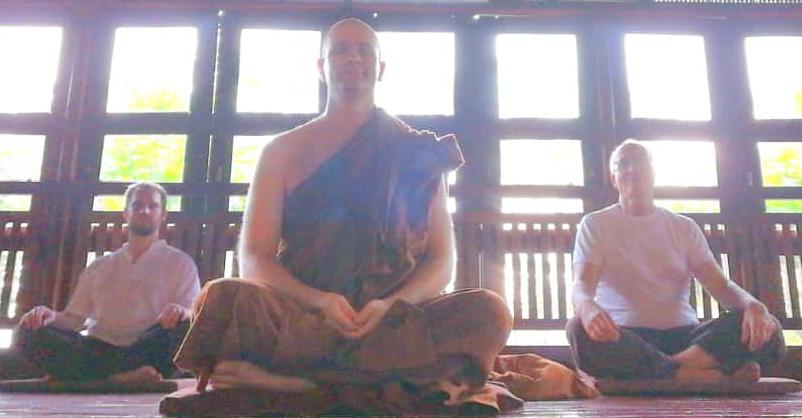 But meanwhile my health problems were still far from resolved and I have had some difficult times. I was having a gastritis and likely a forming ulcer, with my stomach producing acidity around the clock while I was allowed to take meals only during 6h out of 24. I usually started feeling hungry around 4pm but I could not take a meal until after 7am the next day. I have sometimes had difficulties to sleep since my stomach was too painful. Getting help has not been easy at every step (I imagine differences in culture and communication style are responsible) and I was even pushed over my limits once or twice. But since then I have seen a specialist and now I should finally be on the way to recovery. I have proper medication for treating ulcers.
And meanwhile, a plan has been designed for me to do another border run, this time to Hat Yai in south Thailand. I was supposed to stay there for three days and then re-enter the country one more time and getting a new visa. Don't ask me the details of that one, if you see what I mean, but I can say that it wouldn't have been cheap at all. In the long run, my plan was, as I mentioned last time, to continue in a monastery of the same organization, sharing the same leader and philosophy (Pa Auk) and the one in Thailand seemed like a pretty good place to land.
But I have been made to understand very clearly in the past few days that this is out of question. I had not understood that I would not be trusted even to go to another establishment of the same organization. In other words there is no trust at all for anyone, since apparently this is the general policy in this particular place. So given all the above, including the need for me to improve my health and since I will have to disrobe sooner or later because I won't be able to stay in the country forever, I have decided to cut my losses and disrobe before my current visa runs out, that is before the 27th of this month.
The new plan is to go to Thailand, take some rest, heal, see some friends, and then start looking for a place to reordain. Pa Auk Thailand is near the top of the list but I will look for other opportunities as well. I just want a place where I can basically practice meditation all day (many places will keep you busy with a great many chores to do, so I'll skip those) and where I can continue my translations of Buddha's sayings into French.
I still can't talk much about my meditation experience and how it is transforming my outlook on life (because of the monks' rules), but I will be able to do that after I disrobe.
In the meantime I hope you will fare well enough until then
Peace and Love
Remy